Saturday, January 29, 2011
Wednesday, January 26, 2011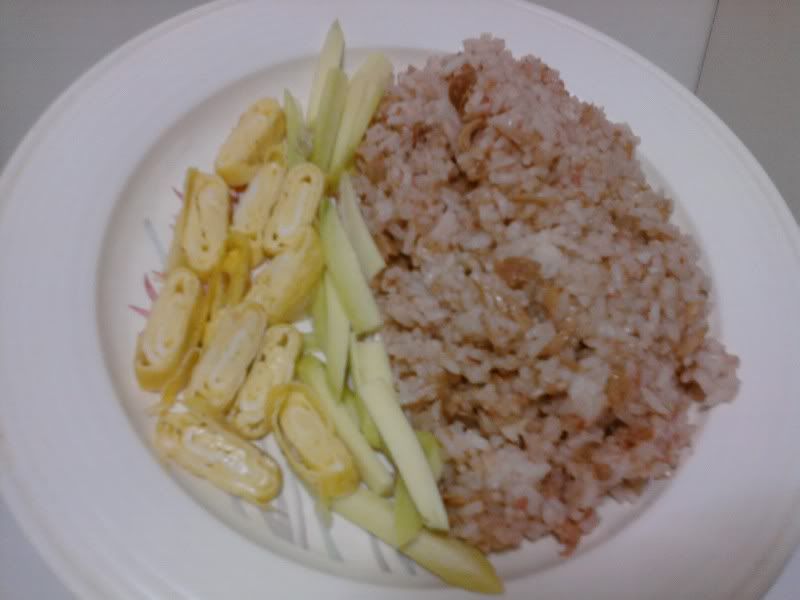 Bagoong rice or shrimp paste fried rice is something I haven't eaten in quite a while. I decided to make my own version with the ingredients we had, as well as catering to my sister's preference for tuna. She doesn't like pork but normally, it's served with caramelized fried pork.
Ingredients:
Please note that all these ingredients are estimates because I just used what we had at home.


1/3 cup bagoong or shrimp paste


4 cups cooked rice


1 small green mango, sliced thinly


2 eggs


1 tablespoon of sugar


1 can of tuna


chopped cloves of garlic -- it depends on you (I personally prefer a lot of garlic!)


oil to grease your pan


Procedure:


Heat the pan. Add the oil.


When the oil is hot enough, put the garlic and sautee them.


Add the tuna and bagoong. Sautee them all together.


Add the cooked rice.  Mix them well together.


When they're all mixed enough, set that aside.


Beat the 2 eggs. Add some sugar for a bit of sweet taste.


Fry them aka scrambled eggs. (In my case, I used a rectangular pan so it looks like tamagoyaki, but not really.)


Slice the cooked eggs.


Serve the rice with eggs and mango slices on the side.


I used to put some tomato sauce in the bagoong rice before. It is possible too. Put the tomato sauce before you put the rice in the pan, if ever you want to try it with it. Enjoy! :)
Saturday, January 22, 2011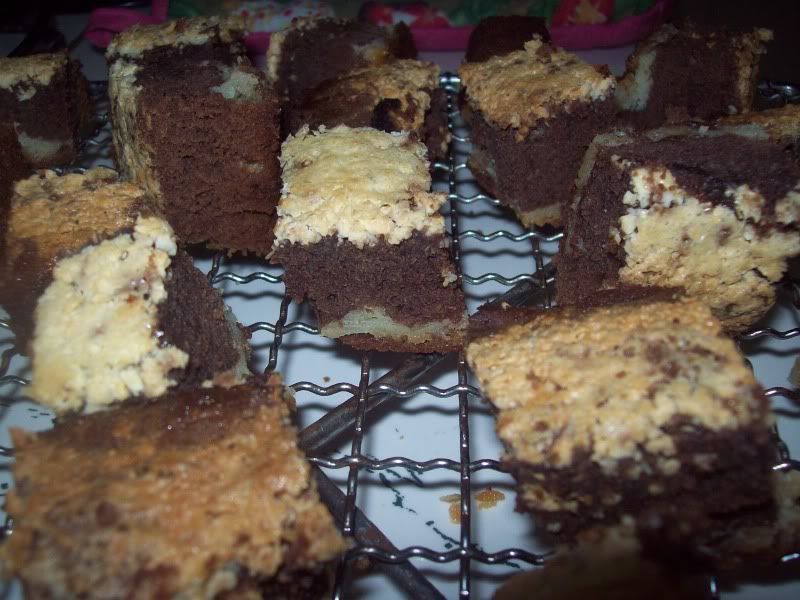 I didn't bother about attempt #1. It was a huge failure. Orz Because it was really burnt. Lessons learned have been incorporated in attempt #2.  It's in a cookbook my sister got from her friends. Title of the book: Good Housekeeping: Easy Everyday Meals Volume 3. It is similar to the recipe to be found on the Joy of Baking site:
cream cheese brownies
.
Ingredients:
Brownie Layer:


3/4 cup butter


1 cup chopped unsweetened chocolate


2 cups sugar


1 teaspoon vanilla


3 eggs


1 1/4 cup flour


1/2 teaspoon salt


Cream Cheese Layer


2 eggs


1 bar cream cheese, softened


2 cups confectioner's sugar


1 teaspoon vanilla


Recipe:


Pre-heat the oven to 350 F. Grease a 13 x 9 x 2 inch pan.


Start making the brownie layer. In a pan, melt the butter with the chocolate.


Remove from the heat and add the sugar and vanilla. Add the eggs, one at a time, beating well after each addition.


Add flour and salt.


Pour into the prepared pan.


Start making the cream cheese layer. In another bowl, beat the eggs with the cheese, sugar and vanilla until smooth.


Spread over the brownie layer.


Bake until done or until a toothpick inserted comes out clean.


Cool then cut into bars.


Modifications:
The recipe I followed said use unsweetened chocolate. We had semi-sweet at home (or dark sweet! It's my sister who knows...) so I used only 1 cup of sugar instead of 2 cups so it won't be too sugary. I doubled the amount in the brownie layer because we find the McCormick vanilla syrup weak.  I forgot the vanilla in the cream cheese layer. Orz Oh and this time, we used two pans. And I am glad we did because having two pans meant that there'd be a second chance if the pan near the bottom of the oven got burnt -- which happened.
Lessons Learned:


Check on your brownies if you smell the brownies already. Turns out that one of the brownie pans was already burnt because I was thinking that there was still time, etc.  That brownie pan was at the most bottom layer in the oven so maybe it was the reason why it got burnt.  I could've moved it and switched it with the one on top.


Maybe I didn't use enough cream cheese.  The recipe said 1 bar of cream cheese.  But it was too liquid.  I am not sure if it's the eggs or the cream cheese in that layer that made it not so thick and so it settled at the bottom.


Overall opinion:
It tastes ok :)  One of the brownie pans got burnt.  But the other one was way better.  It was sweet enough so I guess I made a good call regarding the amount of sugar to put in the mixture.  I still have to figure out how the cream cheese layer should be though. Because it doesn't look like the one in the picture in the book. Here's a picture of the page in the said book: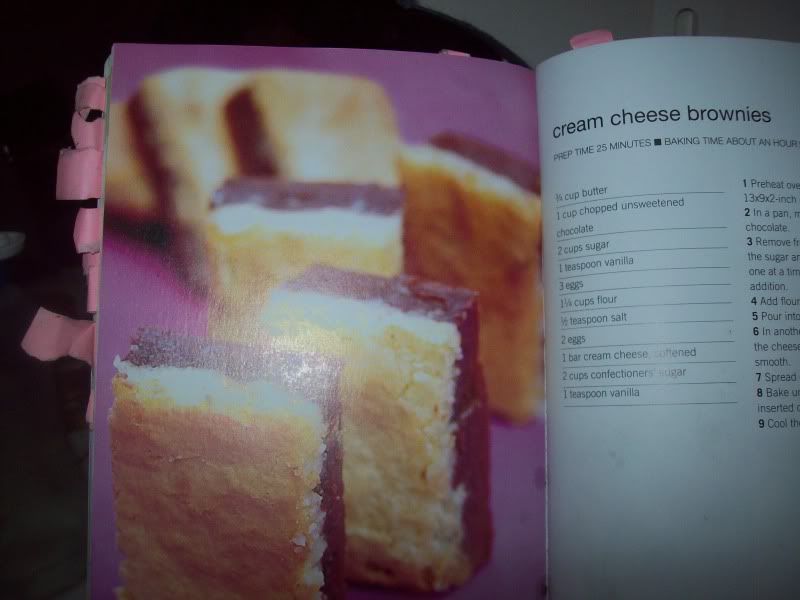 Thursday, January 20, 2011
This is a hat that Fen asked me to make for her. She showed me a picture of a similar hat.  It wasn't a big picture so I couldn't see very well.  I just knew it was a meshy one. This project is on Ravelry.

Materials:


knitting needles: 4.5mm


knitting needles: 6mm


tapestry/yarn needle


worsted weight/dk weight yarn


Directions:


Cast on 88 stitches.


Do the k2 p2 ribbing (a.k.a. 2x2 ribbing) until you get an inch of ribbing for the hat.


Switch to 6mm knitting needles. Knit the row.


Start the diagonal eyelet pattern: Knit 1, *yarn over, knit 2 together, repeat from * to last stitch, knit 1.


Knit the next row.


Repeat steps 4 and 5 up to around 2.5 inches worth of the hat.


Decrease in the next all knit row you have:  * Knit 9, knit 2 together.  Repeat until the last stitch.


Proceed to repeat the diagonal eyelet stitch. (Steps 4 and 5)  Do that for until you've made 2 inches worth of the pattern.


Decrease again.  *Knit 8, knit 2 together. Repeat until the last stitch.


Repeat the eyelet pattern for another 2 inches.


Decrease again. *Knit 7, knit 2 together. Repeat until the last stitch.


Repeat the eyelet pattern for another 2 inches.


Decrease every other row, then repeat the eyelet pattern until the desired depth of the beanie.


If the directions look weird,  I am sorry.  I am still a newbie when it comes to knitting.  But the hat is basically done using the
diagonal eyelet
stitch.  Here is a picture of the hat when it is flat on the table.
The hat is more of a beanie.  Because I knitted it flat, I am not sure how I should make it into a beret.  But at least it's quite slouchy, which is a popular style.
Wednesday, January 19, 2011
Hooray for featured blog entries. I love
CraftGossip.com
and I get all sorts of ideas from the posts there. The blog entry I wrote about using cute colored marshmallows as cupcake frosting got featured. Check out the
entry on CraftGossip: Marshmallow-topped cupcakes!
And yes, I do have a separate food blog because some people prefer only food posts. I write about my kitchen experiments and other food that I like on
Tabemashou!
Friday, January 14, 2011
Pat of Baon Ko Bento posted her Nutella swirl cupcakes for her 52 week challenge and I knew I just had to try it myself. She made self-frosting cupcakes and they look so great. She got the inspiration and recipe from Connie of Home Cooking Rocks! Connie has a great food blog and I knew that any recipe from her would be great to try at home. This is my second attempt at making cupcakes because I am meeting some friends tomorrow morning.
Recipes:
For the main cupcake, I still followed the basic cupcake recipe I used before: http://cupcakeideasbook.com/basic-cupcake-recipes/ We don't have a lot of eggs at home so I just followed this. But for the swirl idea, I got it from this recipe of self-frosting cupcakes by Connie.
Modifications:
I used strawberry preserves, as well as those chocolate snacks in plastic tubes. Oh and like the last time, I also used the macaroon pans. We only have one muffin/cupcake pan at home.
Lessons learned:
No need to heat up the strawberry preserves. They are gooshy enough as they are. Just take them out of the fridge about 15 minutes before baking.
Use those chocolate in tubes if you have no Nutella. They are cheap and will be ok enough.
Don't put a lot of the strawberry preserves if you're using the macaroon pan. It would overflow and the little cupcakes will get sticky paper bottoms. Seriously.
Overall opinion:
These cupcakes are easy to make and they taste good. :) When I ran out of chokochoko/chocolate in tubes, I just added Nips on top and voila~! Colorful and sweet. ?
Monday, January 10, 2011
It's my sister's birthday tomorrow so I decided to make cupcakes. Being a newbie to baking, I didn't dare go into cake territory just yet. Just little cakes. XD I looked up a recipe using ingredients we already have at home. Mom used to want to try baking before so we have muffin pans and the smaller versions for macaroons which I used.
Recipes:
Followed this cupcake recipe: http://cupcakeideasbook.com/basic-cupcake-recipes/
Used this method to add frosting: http://www.chicaandjo.com/2009/07/21/easy-marshmallow-icing-recipes/
Modifications:
Additional vanilla extract.
Margarine instead of butter. (That was the available item in the ref.)
Lessons learned:
Check the cupcakes earlier. The first set had browner bottoms because they were already cooked when I added the marshmallows on top.
Don't get distracted by the doorbell/phone/etc. when you just put the mallows on top of the cupcakes. If you forget them, they look weird after you squish them with a spoon because the edge of the mallow sticking up will retain it's shape. It looks weird. Really.
It's ok even if you pour a little over half of the cupcake paper. At least it won't be flat. ;)
If you're using the macaroon pan, you could half the mallow so that it won't overflow.
Overall opinion:
This is a fun thing to bake. Not everyone might enjoy the texture of the melted mallows though. My sister and I used to put marshmallows in aluminum foil to be cooked for a little while in the oven so this recipe makes sense to us. Colorful marshmallows are fun to use too because they add color to the food.
Materials:


worsted weight yarn (Cotton Ease, old rose)


button


white thread


Tools:


crochet hook 7/0


needle


yarn needle


How this was made:
Row1: Chain 6, sc in 3 chain from hook, sc in the 3 other chains. Chain 1, turn.
Row2: Sc in each sc. (4 sc)
Row3: Ch3 turn. In first sc, nake a puff stitch. Puff stitch on each sc. (4 puff stitches)
Row4: Ch1. Sc on top of each puff stitch. (4 puff stitches)
Continue by alternating Row3 and Row4 until you get the desired cuff length. Your last row must be all sc, not puff stitch so you could add a buttonhole.
Button hole: Slip stitch on top of previous row's sc. Slip stich on second sc. Chain 6 (or the length that will let you lock the button. Slip stitch on the next 2 sc. Weave in the ends. Sew a button on the other end of the cuff.
Wear your cuff or give it to your friend. Have fun! :)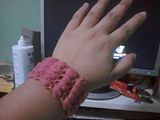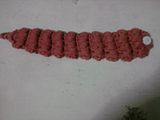 Sunday, January 2, 2011
Or typefaces. If we get nitpicky about it now, then I'd never finish writing anything. XD
Anyway, I've been fiddling around with the layout of my Crafty Cat account on Tumblr. I've found a theme I like, and a typeface I like, as well as a color scheme that suits my taste. And so I ended up putting to use my rusty CSS skills. It's been a while since I seriously made any layouts to the point of implementing them using HTML and CSS. Anyway, fiddling around with Tumblr and Disqus made me appreciate the use of Google's font directory and @font-face.
Right now, I really love these typefaces:
I've downloaded the @font-face kits of Lobster and Philosopher. Using Google's font directory entries requires me to edit the HTML and include a <link> tag but I can't do that for Disqus. Thankfully, fontsquirrel.com has a generator one could use for creating an @font-face kit when needed.
The typefaces I've linked to above are really just gorgeous. I could go on and on about how much I love them, but of course, each person has his/her own choices. Maybe I'd find other typefaces to love in the future. But for now, these six typefaces are enough for me.